Eco-Advantage Blog
August 22, 2011 | Andrew Winston | Comments (0)
By Andrew Winston
Inventory. For those of us not in operations, supply chain, or logistics, it's a vaguely familiar line item we learned about in finance class. We know it's important and that we're supposed to reduce it by increasing "turns."

But inventory is not a minor issue. By some estimates, the world is sitting on roughly $8 trillion worth of goods held for sale, and nearly $2 trillion in the U.S. alone, according to a report by the Council of Supply Chain Management Professionals (note: the full report requires membership, but this number is mentioned about 9 minutes into the video at the CSCMP site).
That's a lot of capital tied up in warehouses. It also represents a tremendous amount of environmental footprint "embedded": logic suggests that this inventory stock, since it represents a healthy percentage of our economic output, required a good percentage of our energy and water to produce (so billions of tons of carbon emitted, for example). If we could permanently reduce the amount of product sitting idle, we'd save money, energy, and material.
So managing inventory well is both a financial win and a sustainability victory. Perhaps the most powerful lever over inventory levels is predicting how much product customers will want, or what's called "demand planning." I recently delved into this meld of art and science when I spoke at a meeting held by Terra Technology, a relatively new and successful player in the "demand sensing" world (the difference between "sensing" and "planning" is about gathering data as close to real-time as possible and feeding it back up the supply chain quickly).
While I know little about the field of demand estimation — or what tools companies are using — my interest was in learning about anything that helps companies save money and reduce their environmental footprints. (Full disclosure: Terra Technology was my client for this event.)
At the meeting were representatives from many of the world's largest consumer product (CPG) companies. The giants in the field, such as P&G and Unilever, spend a lot of money on demand planning, each employing hundreds of people, many with advanced math degrees…and for good reason: P&G's 2010 total inventory, for example, was valued on the balance sheet at $6.4 billion.
Even though predicting the future is devilishly hard, I figured that the explosion of point-of-sale and operational data over the last 20 years, would give companies a good handle on how much of something they'll sell. I was wrong.
As I learned at the conference, according to Terra Technology's benchmarking study, the error rate for CPG companies on estimated vs. actual sales is shockingly high. Even with the fastest-selling, most predictable products, the estimates are off by an average of more than 40 percent. Imagine that a CPG company believes that 1 million bottles of a fast-turning laundry detergent will sell this week. With 40 percent average error, half the time sales will actually fall between 600,000 and 1.4 million bottles. And the other half of the time sales will be even further off the mark.
The repercussions of all this uncertainty are dramatic in terms of cost and material use. Companies have to keep much more inventory, since going out of stock is really unpleasant to explain to consumers, your CEO, or, say, Wal-Mart. The buffer is called "safety stock," and its sole purpose is to mitigate this risk. There's a lot of safety stock out there — nobody knows exactly how much, but what stock level would you keep on hand if you didn't know whether sales would be 1 or 2 million units?
As we've found so many times before, data and software can play a critical role in making operations more efficient and sustainable. For example, using both demand sensing software and good management practices, P&G has cut 17 days and $2.1 billion out of inventory. All that production avoided saves a lot of money in manufacturing, distribution, and ongoing warehousing. It also saves a lot of carbon, material, and water.
Like many companies that realize there's a green element to their offerings, Terra Technology is now making this footprint-reduction case as part of its pitch for better demand prediction. As Robert F. Byrne, the company's CEO, puts it, "I want people to think of inventory as not just piles of cash, but also piles of carbon and piles of water." It's smart positioning, especially because it's true.
The definition of what makes a "green" initiative is broadening, and that's a good thing. Companies would certainly include a lighting retrofit at a warehouse in their list of sustainability or eco-efficiency projects. But until recently, it probably hadn't occurred to logistics execs that reducing the inventory itself could be the greenest thing they do.
(This post first appeared at Harvard Business Online.)
(Sign up for Andrew Winston's blog, via RSS feed, or by email. Follow Andrew on Twitter @GreenAdvantage)
July 26, 2011 | Andrew Winston | Comments (0)
In the midst of the debt ceiling debacle, the House recently found the time to vote on (and fail to pass) a bill that would've repealed the so-called "light bulb law" that raised energy efficiency standards for lighting. The mandate was considered by authors of the repeal attempt — and apparently by 233 House representatives — as a "government intrusion."
Hear, hear! I'm tired of all these higher government standards. I want to retain the "freedom" to buy a refrigerator that uses as much energy as possible (and runs on coal you can shovel into the front), buy clothes and furniture as flammable as possible, purchase food without any safety standards and take my own darn risk of e.coli. Oh, and I want drive my car without that annoying life-saving seatbelt.
Kidding aside, this vote was absurd. If the bill hadn't been brought to the floor under some arcane two-thirds majority rule, it would've passed. The House has continued its attack by trying to defund enforcement of the bill. This is a really bad idea.
It may seem heretical in today's anti-government mindset, but I'll say it: many regulations and standards are very good for business. Here are a few reasons that the continued attack on the light bulb bill makes no sense, and in fact, why we should be passing a lot more laws like it:
1. Government standards, and particularly energy efficiency standards, are, well, standard. Quick history: President Bush, who I think was a Republican, signed an energy bill in 2008 which raises efficiency standards for all new light bulbs starting in 2012. And the anti-freedom Congressman who put those standards into the bill: Rep. Fred Upton, also a Republican (he has now, as the Times put it, "reversed his position on the standards he authored").
In short, before recent hyper-political times, this country passed bipartisan safety and energy standards for decades on everything from boilers to cars and trucks to heating and cooling systems.
Critics claimed this particular law was the end of the incandescent bulb. But the bill does not pick technologies; it says how much energy the bulbs can use. It's the classic and most effective use of government mandates: set the standards and let the market decide how to meet them.
2. Efficiency standards drive innovation and save lots of money. To be fair to critics, the standard did effectively rule out most incandescent bulbs at the time it passed. But then something totally expected happened: companies got creative. As the New York Times reported on July 5, "Incandescent Bulbs Return to the Cutting Edge." Apparently, some people didn't get the message that regular bulbs were dead. Instead, companies like Philips — while innovating around the new CFL and LED technologies — took the 100+ year-old bulb and made it 30% more efficient and last three times longer.
This pattern in common in industries affected by efficiency standards. Look no further than the dramatic innovation in refrigerators. Art Rosenfeld, the godfather of California's energy efficiency movement, likes to show the powerful chart shown here (from NRDC's David Goldstein). Due in large part to aggressive efficiency standards, the energy use and price of new refrigerators has plummeted — all while the size more than doubled. The innovation has saved consumers many billions of dollars.
(Note: Rosenfeld's work has been at the core of California's amazing record of holding per capita energy use flat for 40 years while the rest of us increased energy use 50%).
3. The companies most affected by these standards aren't complaining that much anymore. (Hint: higher product quality and efficiency makes companies more competitive)
One of the biggest battles over efficiency is often waged around automobile miles per gallon targets. The creativity of the auto industry over the last decade or two has been driven (sorry) by higher oil prices at times. But high standards on vehicle miles per gallon around the world have been even more effective (see page 18 of this UN report for chart comparing EU, Japan, China, and the trailing US on mpg standards).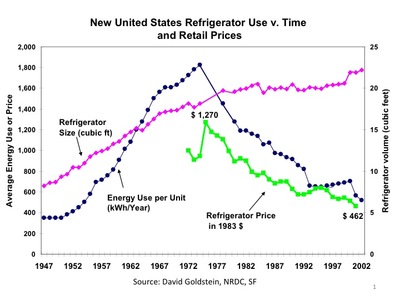 The U.S. is in this game also — the Obama administration is proposing a new rule that would force automakers to raise their fleet average to 56.2 mpg by 2025. The Washington Post reports that this rule could save us 4.7 billion barrels of oil and $705 billion over the next 20 years. Even with these benefits, we'd normally see the auto companies fight hard, and there's always haggling. But this time it's a bit different. GM has broken from the pack and indicated that it would figure out a way to meet the standard. As GM's North America President, Mark Reuss put it recently:
It's our job to [figure out] what it takes to do it. The auto industry does not get easier. It always gets tougher. That's the challenge and that's what our jobs are. If even-stricter guidelines require billions more in investment, so be it. It's not an either/or thing. It's how we get there with cars and trucks that consumers really want to buy at a [price] that doesn't put unreasonable cost on them.
GM, after lagging for many years on product efficiency — a strategy that basically killed the company in 2008 when oil prices spiked — seems to get it now. As Reuss indicates, high standards push companies toward what consumers will demand. And in a world of expensive energy and tight resource supplies, they'll want cars that sip fuel.
In short, those who complain that higher expectations on energy efficiency will "kill jobs" or be destructive to industry aren't giving our business leaders much credit. Companies can and will innovate. It's in their best interest for many reasons, including the fact that the rest of the world continues to raise the bar. Multinational companies need to keep up to stay competitive.
And it's in our vital national interest to continue getting more efficient as quickly as possible. While energy efficiency standards may not be a complete solution, they have represented a rare bright spot in the nearly defunct national energy and climate policy realm. So let's stop the silly votes, move forward, save everyone some money, and help drive innovation.
(This post first appeared at Harvard Business Online.)
(Sign up for Andrew Winston's blog, via RSS feed, or by email. Follow Andrew on Twitter @GreenAdvantage)
July 6, 2011 | Andrew Winston | Comments (0)
Last week I wrote about how eating less meat was the best way to reduce your food's carbon footprint. But what do you do if you want to be a responsible corporate citizen and you sell fast food? Well, I think your company would look a lot like Max Burgers, based in Sweden.

I recently spoke to Richard Bergfors, the CEO (and son of the founders) of this unusual 44-year-old "fast" food chain. With 3000 employees and about $200 million in revenue, Max Burgers is a great example of how a midsize company can carve out a profitable niche through a focus on sustainability — even in an unexpected sector.
In 2000, the company set a new strategy focused on the word "fresh." The leaders looked closely at every ingredient and reduced fat, salt, and sugar, and eliminated genetically modified organisms (GMOs) and trans fats. The menu got healthier, with multiple side options besides fries, 10 drinks with no added sugar, and a selection of darker, healthier breads. The company now sources 100% of its beef and chicken — and 90% of all its product — locally.
To explore its broader climate impact, the firm started working with Swedish thought leaders Natural Step, which, not surprisingly, identified beef as the biggest problem for the company (80 to 85 percent of the footprint). Bergfors acknowledges that industry-wide climate-friendly beef is still a long way off, so Max Burgers plants trees in Africa to offset its carbon footprint. New stores also use solar panels for 15 to 20 percent of electric needs.
But perhaps the most surprising thing this company does is try to influence its customers to buy less meat. Quick reminder: the chain is called Max Burgers. This counterintuitive strategy is the kind of heresy I love — asking customers to use less of your core product. Max Burgers accomplishes this by adding more non-meat items to the menu, prominently displaying climate footprint data in store (there's transparency for you), and suggesting customers buy chicken, fish, or veggie sandwiches periodically (a là Meatless Mondays).
In 2004, a golden marketing opportunity came along with the launch of the documentary Supersize Me, which followed director Morgan Spurlock as he ate only McDonald's food for 30 days. Max Burgers decided to launch a tongue-in-cheek "Minimize Me" campaign. A customer, much like Subway's famous Jared, ate only Max Burgers for 90 days and lost 77 pounds. Two years later, the company re-ran the promotion with multiple people competing on the Max-only diet.
The result of all these efforts is a more sustainable burger chain that's telling everyone to eat less meat, and doing so profitably. The mix of non-beef products is 30% higher than it used to be. But the profit margins are very high.
Bergfors reports that his stores are averaging 11 to 15 percent profit margins versus 2 to 5 percent at the big name competitors. He says Max Burgers is the most profitable, fastest growing chain in Sweden, expanding at 20% per year (and 5% same store sales growth) in a flat market. Granted, higher-end niche brands generally do have higher margins, but this is not an overly small company, and it doesn't seem to be sacrificing anything with its "minimize me" strategy — quite the contrary.
Of course a family run company always has more leeway to act on values (see Patagonia, the prime example). As Bergfors told me, "we've always done things a bit differently — the goal is greater than to just maximize profit." But it's still a business, and in the next breath he said, "we're profit driven and like to make a profit like everyone else…but we don't put profit first…we don't have to maximize profit and we can care for people and the planet we're living on."
But given Max Burgers' profit levels, it seems that maximizing all value, not just profits, can be darn good business.
(This post first appeared at Harvard Business Online.)
(Sign up for Andrew Winston's blog, via RSS feed, or by email. Follow Andrew on Twitter @GreenAdvantage)
June 27, 2011 | Andrew Winston | Comments (0)
In recent years, one part of the food business has rivaled organics as the hot growth area: "local" food (defined vaguely as coming from the same state or from less than 100 miles away, for example). It's a market segment that has just about doubled in sales and number of outlets over the last decade. The world's biggest food buyer, Wal-Mart, jumped on the bandwagon last fall and announced that it would double the amount of local food it sells (to 9 percent of all its food sales).

The idea of buying locally is not new, and farmers' markets have been big for years. It's become almost gospel that the food on our plates has traveled about 1500 miles to get to us.
So it would seem logical that the best way to shrink your food-related carbon footprint associated would be to buy from near by. But it turns out that this assumption is wrong.
Thankfully, a couple scientists took a harder look at the data and published an analysis in the Journal of Environmental Science and Technology. The abstract for this article is a prime example of clear writing and good lifecycle analysis — which don't usually go together — so check it out. But here's the essence:
Food is transported a long way, going about 1,000 miles in delivery and over 4,000 miles across the supply chain.
But 83% of the average U.S. household's carbon footprint for food comes from growing and producing it. Transportation is only 11%.
Different foods have vastly different greenhouse gas (GHG) intensity, with meat requiring far more energy to produce, and red meat being particularly egregious, requiring 150% more energy than even chicken.
So the journal article adds this up to an obvious conclusion: if you want to reduce your food's carbon footprint, eat less meat. In short, "Shifting less than one day per week's worth of calories from red meat and dairy products to chicken, fish, eggs, or a vegetable-based diet achieves more GHG reduction than buying all locally sourced food."
As a numbers geek, I love this kind of analysis. Now for the caveats: none of this data should dissuade anyone from eating locally also. The footprint benefits are real, even if dwarfed by food choice. And the benefits to local economies and smaller farms are very important.
But let me repeat: just moving away from meat for one day a week is more effective than buying everything you eat locally. This number will be surprising to most people, but it's partly why the global call for "Meatless Mondays" is gaining steam, with school systems and universities adopting the approach in cities around the world, from Baltimore to Tel Aviv.
As companies keep discovering, it really helps to run the numbers. As I've written about before, Pepsi discovered that the largest chunk of the footprint of its Tropicana orange juice was not in production (squeezing oranges) or in distribution (shipping heavy liquids is fuel-intensive), but in growing the oranges with natural-gas-based fertilizer.
Smart, knowledgeable execs are consistently surprised when good lifecycle data trumps seemingly solid assumptions. So we shouldn't expect consumers to figure out the right choices themselves. Buying local food seems like the obvious choice — until you run the numbers.
We have a lot of work to do, both in companies and in our homes, to tackle climate change. Good data and analysis will let us focus on the quickest paybacks and get the most out of our efforts.
(This post first appeared at Harvard Business Online.)
(Sign up for Andrew Winston's blog, via RSS feed, or by email. Follow Andrew on Twitter @GreenAdvantage)
June 21, 2011 | Andrew Winston | Comments (0)
As a car, the all-electric Nissan Leaf has received mostly great reviews. But as a positioning statement, Nissan has, in many marketers' eyes, missed the boat. After some missteps, Nissan may now be on the right path. An ad I pulled from Fast Company recently hits all the right marks.
The debate — or more accurately criticism — began last year with a now infamous ad showing a polar bear lugging himself from the Arctic to some guy's suburban driveway to hug him for buying a Leaf. The ad was gorgeous, no doubt, and the YouTube version has been viewed 1.3 million times, which isn't bad. But some green marketing leaders, such as Jacquie Ottman, found it a bit heavy-handed and way too focused on the hyper-green benefits vs. driving experience.
But even before getting to ads, some have pointed out that the name itself is a problem. A "Leaf" doesn't exactly speak to the same part of the male brain that car ads usally target — the caveman lobe that asks, "How will this car make me sexy and powerful?".
As one ad agency exec with a specialty in green marketing told me, "What guy is going to the pub and saying, 'Hey, I test drove a Leaf'?" As she pointed out, the print ads have focused on images like seals and kelp — it's basically the worst of green marketing, "like it's packaged in burlap."
Instead, experts suggest that the Leaf should be positioned in a much more exciting way, as the first electric car for the masses and a true innovation. This, Nissan could trumpet, is a new era of mobility!
So skip to the latest print ad, in which Nissan does something new. A fascinating, colorful graphic shows different cars on a spectrum of fuel efficiency. The axis is not, however, miles per gallon, but "miles traveled for one dollar." As the ad says in small print: "comparing miles per gallon is suddenly irrelevant."

The traditional mpg metric has always been really odd: who thinks that way? And the government has had a devil of a time plugging (forgive me) electric cars into their normal rating system. What the heck does miles per gallon mean if you use no gallons?
But showing how far I can go for each dollar I spend? Now that's dead on. This is brilliant marketing, in tight economic times or at any time. Nissan has declared a new metric for a completely new model of transportation. Bravo.
(This post first appeared at Harvard Business Online.)
(Sign up for Andrew Winston's blog, via RSS feed, or by email. Follow Andrew on Twitter @GreenAdvantage)
June 13, 2011 | Andrew Winston | Comments (0)
Tucked into this year's Fortune 500 issue is a short article on the annual Rice University Business Plan Super Bowl. With $1.3 million in cash, equity, and advice in play, this contest is one of the world's most prestigious and richest competitions for budding entrepreneurs. It also provides some insight into what MBAs and VCs are excited about today.

If these entrepreneurs are our future business titans, then I'm feeling pretty good about where we're headed. In short, next-gen leaders want to build businesses that solve sustainability problems. Here are a few of the 6 winners profiled in Fortune.
The other winners, FYI, were a better human authentication tool for websites and a material science innovation, a heat-resistant filter made from titanium dioxide.
So out of the six winners, call it three (and part of the TNG pitch) were green-focused. I'd say that three and a half out of six is a darn good ratio in a competition that was not intended as a sustainability contest. And these entrepreneurs are working on some of our biggest problems — buildings represent about 40% of all energy use and emissions, waste is the new frontier in fuel sourcing, and the cattle industry is one of the largest sources of greenhouse gas emissions.
Given the outcome of this year's contest, perhaps what the judges and competitors are telling us is that every competition needs to be about sustainability now. We're facing a tough future for our species if we don't turn the power of all of our institutions — business, government, academia, NGOs, and communities — toward solving our biggest challenges. Luckily for all of us, these bright young minds, our future business leaders, are excited to tackle these problems (and make gobs of money doing it).
But let me leave you with two main questions if you're a current business leader:
Are you ready to innovate and find solutions for our toughest sustainability challenges?
Will you be able to attract the best and brightest talent to your organization if you're not?
(This post first appeared at Harvard Business Online.)
(Sign up for Andrew Winston's blog, via RSS feed, or by email. Follow Andrew on Twitter @GreenAdvantage)